The Pros and Cons of Teaching Yoga in an Integrative Medicine Center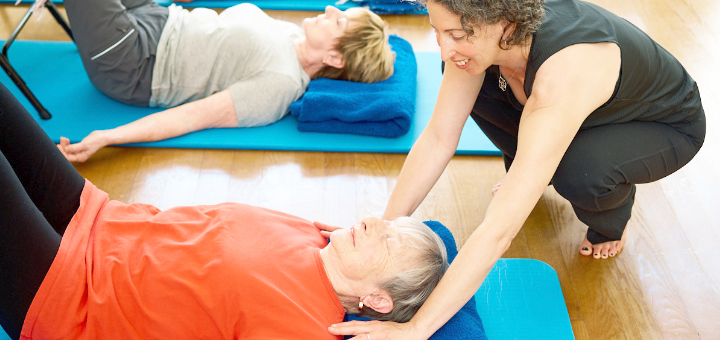 I've had the chance to work on great projects as a yoga teacher involved with research— to study whether and how yoga can help with heart health, chronic back pain, and cancer care. Teaching therapeutic yoga classes and working with yoga research studies were two parts of my pathway. Perhaps my experience can be helpful to those of you who are curious about teaching in medical research and integrative health centers.
I used to joke that I wedged a toe into the integrative medicine door, and then after a couple years stuck my foot in there. After five or six years, an entire leg made it into the room…. By now, a decade after I began, I can see how the efforts of many researchers, yogis, and patients have opened the door to a much wider stream of yoga research and therapeutic yoga classes. Growing evidence for yoga's benefits helps, too. Today there may be more opportunity to work in integrative clinical and research settings, as yoga teachers and therapists, particularly in service of nonpharmacological alternatives to conventional treatment.
This is how I started teaching yoga in a prestigious medical research and education center. As a relatively new yoga teacher in 2007, I studied restorative yoga with senior teacher Judith H. Lasater and subsequently assisted several years' cycles of her restorative yoga teacher trainings. To build one's own teaching skills and confidence in personal practice, there is nothing equal to assisting an excellent teacher over time.
It happened that Judith was advising a research project, Practicing Restorative Yoga and Stretching for the Metabolic Syndrome (PRYSMS, which I've written about elsewhere). I was fortunate to be among those she recommended to teach with Dr. Alka Kanaya's study. At that time, I was transitioning into full-time yoga teaching after many years of consulting in research and evaluation for community organizations, with a strong background and interest in research methods and health education.
Here are a few things the restorative yoga teachers did with PRYSMS:
Adhered to a teaching protocol (limited set of postures, sequences);
Filed research notes;
Maintained close communication with study participants;
Attended regular team consultations; and
Taught restorative yoga (two evenings per week for two years) for groups of people at high risk for the metabolic syndrome.